About DRILNET
A group of professionals from the petroleum industry
Drilnet was created in 2000
We worked as drilling supervisors, superintendents, project managers in such companies as Total, Schlumberger, ENI, Halliburton, Exxon, and BP at petroleum sites all over the world for many years.
Our collaborators have from 20 to 30 years of working experience in the domain of their competence.
It allows us to provide all kinds of consultancy, audit and services (expert knowledge-based services) for the petroleum and service companies, as well as for all upstream activities, refining, HSE and logistics.
We have a large data base of specialists ranging from drillers to supervisors, superintendents, drilling engineers and project managers, including cement and fluids engineers and other technical and supporting staff.
Our research and development department offers technical assistance and engineering for the oilfield from upstream to downstream.
We assist our partners in human resources management and vocational training.
Upstream

80%

Midstream

52%

Downstream

67%
Within our structure we assure and develop training and recruitment programs, evaluate engineers and technicians on behalf of important international companies.
We can also implement and set up training centers, train the future trainers and provide the following certifications: IWCF, STCW 95…
Moreover, we can provide such certifications to European regulations at existing training centers.
Have a look at our site and don't hesitate to contact us if you need any special request.
Where we work
We work in the following countries: Algeria, Angola, Cameroon, Cuba, Egypt, France, Gabon, Georgia, Indonesia, Italy, Kazakhstan, Libya, Mauritania, Morocco, Nigeria, Peru, Qatar, Romania, Russia, Senegal, Spain, Syria, Tunisia, Turkey, Turkmenistan, United Arab Emirates, Venezuela, Yemen, USA.
Through subsidiaries of our partners DRILNET is represented in Abu Dhabi, Angola, Australia, Bahrain, Brazil, Brunei, Cameroon, China, Congo, Dubai, Gabon, Georgia, Egypt, Equatorial Guinea, Libya, Indonesia, India, Iran, Iraq, Kazakhstan, Kuwait, Libya, Malaysia, Malta, Mexico, Myanmar, New Zealand, Nigeria, Norway, Oman, Philippines, Qatar, Saudi Arabia, Singapore, South Korea, Suriname, Thailand, Trinidad, United Kingdom, Venezuela, Vietnam, Yemen.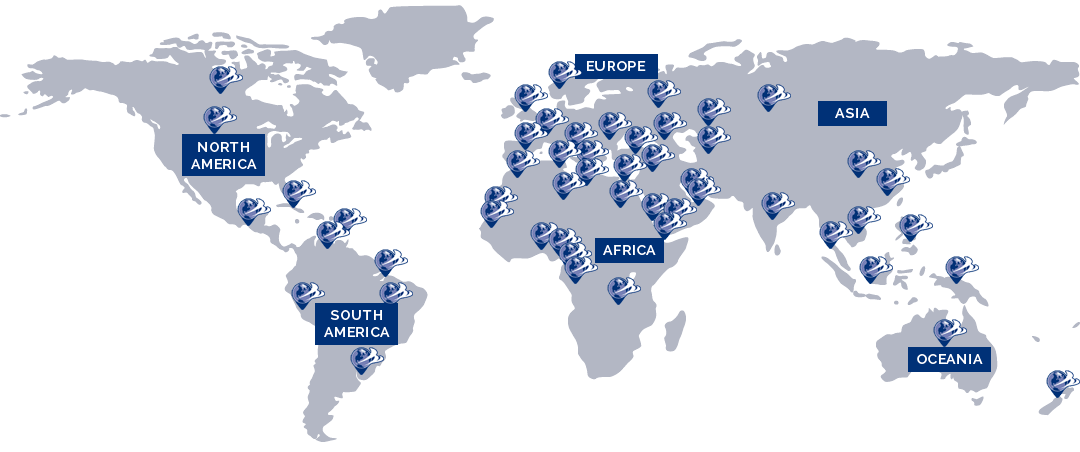 Do you have a question about DRILNET?
If you are interested in working together, send us an inquiry and We will get back to you as soon as we can! Contact DRILNET